Description
Developed according to the recommendations of the Public Health Council, the Influenza Prevention Unit (UPG®) is the only equipment provided with necessary devices which enables to promote the right gestures and barrier measures in medical environment :
► Hand hygiene: hand-disinfectant solution holder
► Masks using: masks box holder
► Gestures in case of sneezing: tissues box holder and waste bag holder (30 Liters)
Idéalement placée aux entrées des établissements et des unités de soins (services des urgences et de consultation, maternité, gériatrie, …), cette unité mobile et compact est équipée de consignes préventives sur les gestes simples à adopter pour limiter les risques de transmission destinées à informer les patients et les visiteurs.
► Unité de Prévention de la Grippe(UPG®) Metal pole on 5 multi-directional wheels equipped with:
• 1 instructions display holder
• 1 hand-disinfectant solution holder
• 1 mask box holder
• 1 tissues box holder
• 1 waste bag holder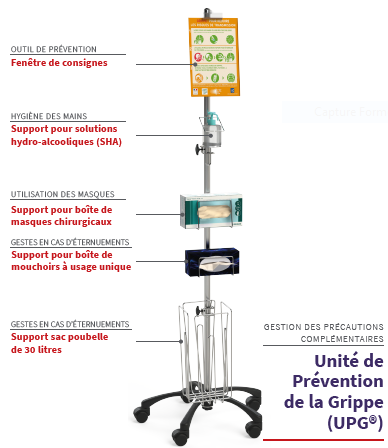 En savoir plus sur les mesures barrières
Chaque année entre les mois de décembre et d'avril, les virus grippaux touchent entre 2 et 8 millions de personnes en France. Ils entraînent le décès de plusieurs milliers d'entre elles. Si la vaccination demeure le meilleure protection contre les virus de la grippe, le respect des mesures barrières permettent de limiter la transmission des virus en particulier en milieu de soins.